DeSiFloc – efficient and cost saving landfill leachate treatment
Landfill leachate contains a cocktail of various pollutants. In addition to biodegradable nitrogen compounds, this also includes a large number of other organic and inorganic pollutant groups that are fully or partially non-biodegradable. These substances have to be removed from the landfill leachate through cost-intensive chemical/physical treatment.
Our concept for the efficient purification of landfill leachate
The DeSiFloc concept for landfill leachate treatment includes a new, internationally patent-protected process which can separate the pollutants more efficiently compared to conventional processes. The main part of the new process comes into play after biological pre-treatment. The non-biodegradable or residual pollutants are targeted in the FlocFormer process and can then be filtered out of the waste water flow. The operating costs of the new process are very reasonable.
By using FlocFormer, the landfill leachate treatment process is more consistent in terms of processing and costs compared to conventional treatment. Throughout the entire system, the focus is on removing all pollutants (apart from biodegradable nitrogen compounds) efficiently from the waste water using the FlocFormer process.
The measurable advantages:
Investment is only around 50 % compared to decanter applications.
Energy consumption is only around 12.5 % compared to decanter applications

(approx. 20 kW against approx. 2.5 kW).

The service life of the active carbon filter is increased by 2.5 times (less personnel, reduced downtimes).
The COD input value in the active carbon filter almost reaches the discharge limit already.
The active carbon filter is reduced almost solely to a monitoring capacity (60 % lower active carbon costs).
Noise pollution from the machines is significantly reduced (thanks to the low-speed FlocFormer and disc thickener).
Comparison of DeSiFloc process to conventional methods: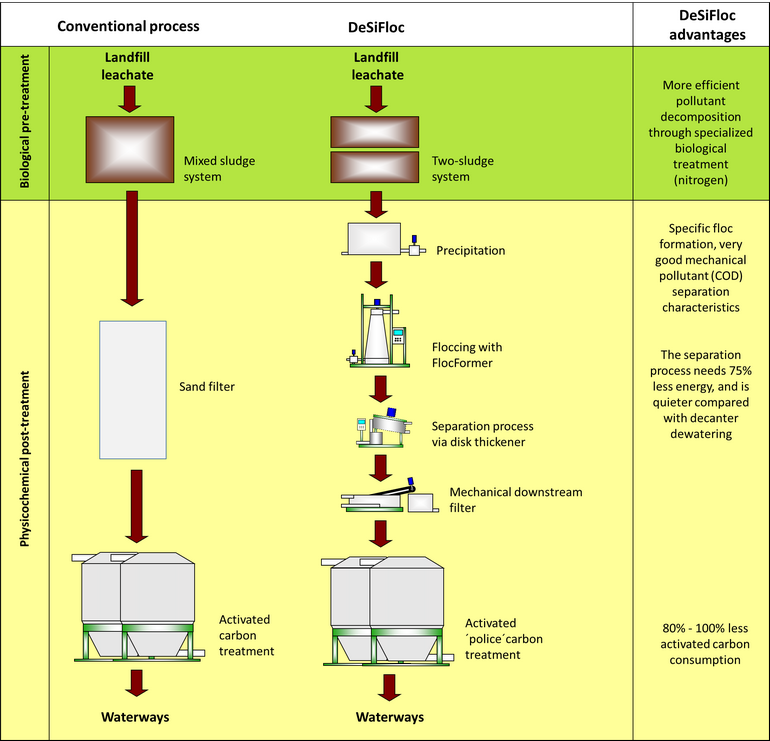 With the new process, a specific task is assigned to each step of the landfill leachate treatment process chain. As specialists can then be used for each individual step, the total output of the system can be better optimised. Plant operation then becomes even more economical. Additionally, the plant can be adapted to changing specifications with greater flexibility, such as varying pollutant concentration or flow rates.
The targeted flocculation and filtering out of pollutants from landfill leachate can be made more efficiently and specifically with DeSiFloc than with conventional methods.
We design, plan and build according to your needs – from a single treatment step right up to entire landfill leachate treatment plants.